Customer Relationship Management
Jackson LMS Associates has extensive experience developing CRM strategies and implementing CRM solutions. This experience includes clients from a wide range of industries with revenues ranging from $10 million to $10 billion. Jackson LMS has developed CRM strategies for clients that have sales forces with a handful of members to multi-national clients with thousands of users spread across the globe. With CRM there is no one-size-fits-all approach. Jackson LMS experience and technology agnostic approach enables us to develop and implement solutions that enable clients to achieve a competitive advantage. True competitive advantage is only possible if CRM is viewed as more than just technology; it is a strategy that affects all parts of the organization.
Why Are Companies Turning to CRM?
CRM offers dramatic improvements in company performance through:
Higher revenue per customer through more effective cross-selling and up-selling.
Understanding and managing customer profitability.
Higher customer retention and loyalty.
Increased sales productivity.
Personalized and customized service and support.
Reduced marketing expense through improved target marketing.
More effective proposals as a result of better access to historical information.
Sales, Marketing, Service
Vendors have been developing CRM tools and technologies that drive towards providing a 360° view of the customer to all facets of the enterprise.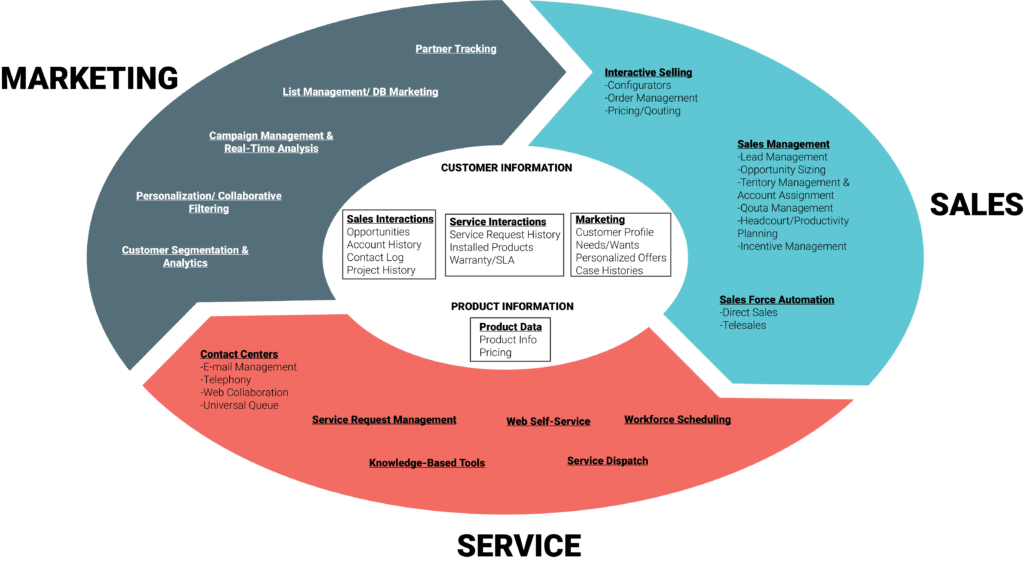 CRM is a strategy, not just a technology
In order to realize the true benefits of CRM, an organization must evaluate and optimize its processes, personnel and all key business relationships – to build and maximize the relationship with its customers. CRM is a business strategy that:
Identifies the firm's most valuable current or prospective customers and key business relationships.
Differentiates these customers in terms of their values and needs.
Customizes the firm's products and services to deliver the highest possible value in a profitable way.
Focuses on integrating and implementing the processes, personnel and partners of your organization to achieve marketing, sales & service objectives.
Aids the management of external relationships with channel partners, suppliers and other alliances that are critical to delivery of differentiated products / services.
Continually monitors the customer's expectations and requirements so as to deliver products and services that will provide an unique customer experience and build a long-term relationship.
Delivers a consistent message across the organization
CRM Approach
The approach to CRM should be self-reinforcing and highly structured, while allowing for iteration and flexibility. Customers, technology and market changes require constant evaluation and consequently, organizational agility and adaptability to meet new requirements. CRM requires a coordinated, structured management approach:
Business strategy that directs the CRM initiative through a value proposition that fully exploits CRM capabilities.
Sales, service and marketing operational strategies that standardize business processes, personnel, data, channels and technology into an integrated enterprise.
Human capital management strategy that generates the appropriate customer focused skills behaviors within the integrated enterprise.
Alignment of organizational incentives and rewards which reinforces and drives behaviors and commitment to strategic and operational objectives.
Technology strategy that evaluates the current technology infrastructure, the strategic and operational requirements and selects the appropriate CRM technologies and tools to complete the solution.
Phase IV
Results v. Plan
Market Knowledge
Issues / Resolution
Phase III
Program Management
Multi-Disciplinary Team
Rapid Prototyping
Change Management
Quality Assurance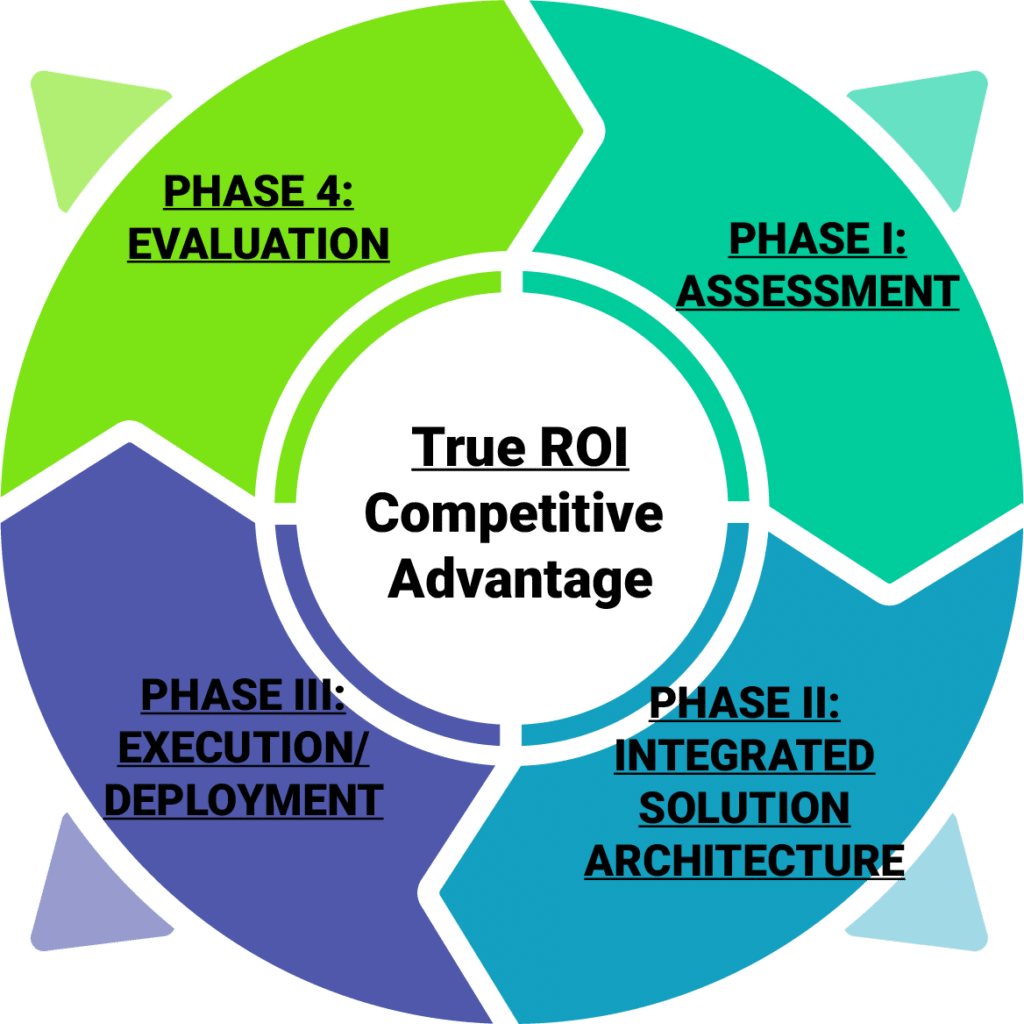 Phase I
Identify CRM Objectives and Opportunities
Organizational Assessment
Performance Review / Benchmarking (optional)
Technology Strategy / Impact

Phase II
Solution Model
Detailed Process Design
Fit-gap Analysis
Detailed System Design
Refined Cost / Benefit Calculation
Implementation Roadmap
Causes of CRM Failures
Business Issues
Lack of coherent CRM business strategy
Lack of sales & marketing process change
Lack of senior-level support
Lack of training and internal support
Poor measures of sales & marketing results
Failure to adjust individual incentives & metrics
Technology Issues
Lack of cross-functional planning
Inappropriate IT investments
Poor business representation on project team
Poor vendor selection criteria
Ensuring CRM success
Start with the Business Case.
Must be based on financial measures targeted for improvement.
Develop clear strategic objectives and a commitment to implement.
Objectives must be clear, achievable and prioritized.
Identify the necessary operational changes and impacts.
Focus on acquisition, retention and penetration of key customers and alliances across touch points.
Employ an implementation of personnel, process and technology that integrates:

Process requirements
Role criterion / enhancements
Management activities
Performance metrics
Rewards & recognition
Change Management Factors Driving Success
Sales people are being asked to use more technology, divulge "proprietary" information and provide information upstream that is valid and predictable.
Fear of "Big Brother" must be addressed early and often.
Mine the data collected to make sales reps more effective — reward their efforts by helping them sell more.
Marketing departments need to interact with IT more as analytical CRM grows within an organization.
Marketing should be the guardians of the data in the CRM system.
IT departments must acquire the resources and skills to manage and maintain the new CRM applications, supporting architecture and technologies.
CRM Trends
Sales Force Automation
Provide sales people with the "tools they need for battle".
Management of contacts, leads, opportunities, sales activities, opportunities, marketing collateral, time & expense reporting and reporting tools.
Sales Management
Functionality aimed at managing a sales force have been introduced in the last few years.
Territory management / account assignment, quota management and headcount / productivity planning.
Sales Compensation and Incentive Management
Tools have been developed to manage a notoriously manually intensive process.
Quota programs based on account types or products can be managed for different sales groups or territories.
The latest tools can manage "what-if" sales plans and ad-hoc queries, rapid changes of sales incentive programs, stimulate pay transactions and offer interactive reporting to sales people.
Interactive Selling
Interactive selling tools aim to extend SFA and can manage selling interactions that require little to no participation from a sales person.
Sales configurators and on-line pricing / quoting tools that can be used by internal sales people or directly by a customer.
Proposal Development
Proposals don't win work. Poor proposals DO lose work.
The bar is continually being raised.
Complete, accurate, and up to date information. Quality counts too!
Campaign Management
Multiple groups are coordinated with a common marketing message.
Campaign logistics, budget and goals are documented.
Response rates for can be automated to real-time measures.
Real Time Marketing
Allows the combination of past customer interactions, profitability measures and trend analysis with current information (call, web session) to adapt and make offers that will trigger a desired result.
Marketing & Analytics
The integration of marketing functions and analytics has increased.
Functional data marts with histories of customer interactions and behavior, revenues generated, costs incurred and demographic data can drive value for the marketing function.
Customer intelligence "on-the-fly", data mining and better campaign management functions all become available to the enterprise through use of advanced analytics.
Analytics/Business Intelligence
Analytics are not new. The concept of the data warehouse and associated data marts has been around for awhile, but. . .
Customer data is usually scattered over many systems within an organization.
Often, they not are designed to be customer centric or are not very user friendly.
Analytical CRM is based on creating data marts that store product information, customer profiles, customer interactions and other critical data.
Effective use of analytics can allow an organization to:

Perform effective segmentation of customers.
Create models to understand the drivers of customer profitability.
Perform exploratory analyses, and derive customer insights.
Analyze customer behaviors and predict likely future behavior using statistical models.
Drive campaign management, measure responses and marketing effectiveness.
Assist and drive operational CRM components (sales, service, marketing) with customer information.
CRM Implementation Options
Enterprise vendors provide integrated back-office and front-office functionality for the entire enterprise
Oracle
PeopleSoft
SAP
JD Edwards
Microsoft (SMB)
Best Software (SMB)
CRM only vendors focus on the common components of CRM (Sales / Service / Marketing / Analytics)
Siebel
Clarify
Sugar CRM
E.piphany
Onyx
Niche vendors focus on specific functionality for a one or more components of CRM or for a specific industry or solution set
Deltek (Engineering and Construction)
MarketSoft (Campaign Management, Lead Management, Territory Assignment)
Selectica (Interactive Selling)
Incentive Systems (Sales Compensation and Incentive Management
Primus Knowledge Solutions (Web Self-Service, Knowledge Base Management)
eGain (Customer Service, Email Management)
Application Service Providers – outsource the management of CRM applications
NetSuite
Salesforce.com
Sugar CRM
Outsourcing – Outsourced contact centers, field support, telesales, telemarketing
Data Services – Some organizations utilize third party data agencies
List Management
Data aggregation and cleansing (common in Pharma)
Marketing Analysis